In order to increase the female labour force participation the government has recently come out with the Maternity Benefit (Amendment) Bill, 2016.The recent maternity benefits (amendment) bill 2016, is an instrument of boon for motherhood and childcare. It is also placed India in third place to allow maximum maternity leave for childcare, following Canada (50) & Norway (44).
Though maternity amendment bill is advantageous to women in organized sector, many experts indicate that the amended act will not have much impact on women workforces in the informal sector. Women from lower income group, who are mostly concentrated in the informal sector, are not eligible even for a single day of paid maternity leave.
Therefore females working in the Unorganized Sector will not be benefitted from Maternity Benefit Act Amendment Bill 2016.
The Union Cabinet, led by Prime Minister Narendra Modi, gave its ex-post facto approval for amendments to the Maternity Benefit Act, 1961 by introducing the Maternity Benefit (Amendment) Bill 2016. The modifications are as under:
Increasing maternity leave from 12 weeks to 26 weeks for two surviving children and 12 weeks for more than two children.
12 weeks maternity leave to a 'Commissioning mother' and 'Adopting mother' and mandatory provision of creche in respect of establishment having 50 or more employees. Another alternative is for a few firms to establish a common facility within a prescribed distance. The employer will have to allow the mother to have four visits to the crèche which will include the interval of rest allowed to women employees.
Nursing mothers may be allowed to work from home beyond the 26 week maternity leave period. However, this depends on the organisation she works for.
This bill facilitate 'Work from home': The Bill presents a provision that an employer may permit a woman to work from home. This would apply if the nature of work assigned to the woman permits her to work from home. This option can be availed of, after the period of maternity leave, for a duration that is mutually decided by the employer and the woman.
The Maternity Benefit Act, 1961, protects the occupation of women during the time of maternity and entitles them of a full paid absence from work to take care for the child. The amendments will help 18 lakh women workforce in organised sector.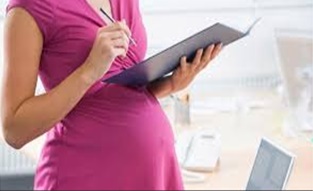 According to Maneka Gandhi, Union minister for women and child development, "Maternity leave is not a holiday, but a very stressful time for the woman. Majority of females are waiting for this bill.
The salient features of this bill are:
1. The maternity leave has been increased from current 12 weeks to 26 weeks.
2. An adopting mother or a commissioning mother can avail maternity benefit upto 12 weeks.
3. The bill is equally applicable to all working women i.e both government and private employment.
4. Also, it is now mandatory for all establishments with 30 women workers or 50 total workers to provide creche facilities for their employees, either at the premises or within half a kilometer.
Few issues which need to be addressed like:
1. Non-inclusion of unorganized sectors. Women working in unorganized sector will not get the benefit.
2.The bill covers establishments with more than 30 women workers or 50 total workers to provide creche facilities. What about establishments with less people than that ? This issue needs to be addressed.
3. Some establishments especially new entrepreneurs may find it very difficult to adhere to the provisions of the bill looking at their financial and human capital
Analysis of maternity benefits ( amendment ) bill:
Encourage women to participate in the economic growth of family & country.
Economical & emotional empowerment of women and safeguarding childcare or infant care.
Discourage adoption of older children.
Amending mere maternity leaves, imparts a paradox message to society, i.e childcare is the sole parental responsibility of women.
Inability to empower women of un-organized sector.
Maternity benefits to only commissioning mothers ( biological/ lends her egg to surrogate) a hitch for women's suffering from fertility issues.
It is stated by many experts that The Maternity Benefit (Amendment) Bill, 2016 is a progressive bill. India has raised the standard by the amendment to the Maternity Benefit Act. Unquestionably, this initiative of Rajya sabha is considered as great in favour of working females in organized sector. The intent of the Maternity Benefit Act, is to regulate the occupation of women employees in some establishments for definite periods before and after child birth and provides for maternity and other benefits. But the amended Act, however, is not applicable to all enterprises, but only those employing at least ten workers.